Careers at Nucar
Join a professional leader in automotive sales and service
About Nucar
At Nucar Automotive we pride ourselves on our strong commitment to customer satisfaction which has permitted Nucar to become recognized as a professional leader in automotive sales and service. Success and growth in the future are dependent upon our ability to sustain this superior reputation. The collective strength of our customer satisfaction team is derived from the individual effort and dedication of every employee.
Learn About Us
Connect With Us
Nucar Team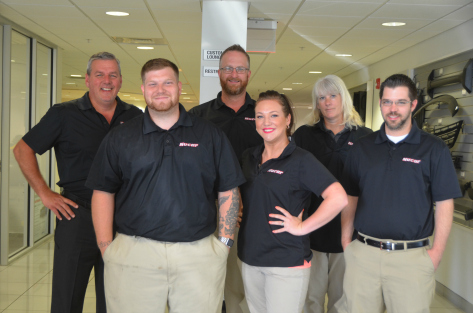 Featured Jobs
Sales Consultant
Nucar is seeking energetic salespeople to join our team of hardworking individuals. As a Sales Consultant with Nucar, you will gain valuable experience with an established group of automotive consultants while learning extensively about the industry and the products offered at Nucar. Our consultants hit the ground running and are able to continuously help the company not only meet, but exceed company goals!

Finance Manager
Nucar is looking for motivated Finance Managers to join our sales team! The individuals in this position will be responsible for offering vehicle financing, service contracts, and aftermarket products to our customers—while providing a thorough explanation of these products and services.

Automotive Service Technician
Nucar is hiring mechanics and technicians at all experience levels (A,B,C,D) to join our knowledgeable staff of automotive professionals. We are provide training to motivated newcomers, and offer an opportunities to grow for even the most veteran of mechanics and technicians. The tool program we offer provides financial assistance to newly trained technicians allowing them to obtain what they need to do the job while meeting the requirements of the manufacturer.

Service Advisor
Nucar is seeking knowledgeable Service Advisors to work one-on-one with our customers, advising them on available service options and parts when their vehicles need repairs. This role will require a personable disposition as well as the development of extensive product knowledge in order to best serve all of our customers with a friendly smile and honest guidance. Boch offers in-house training and support as well as competitive compensation and benefits packages.

Driving Positions
Driving Positions include Parts Drivers, Valets, Shuttle Drivers, on- call vehicle delivery drivers and lot attendants and driving positions. Our businesses always have a need for drivers. Ideal candidates must be dressed appropriately as he/she will be representing the company, enthusiastic, self-motivated, punctual, personable, with the desire to work long term as we expand our retail operations.

Receptionist
Nucar is searching for a personable Receptionists, Greeters, and Customer Service Representatives for its Sales Departments. Our staff in these areas are personable and attentive to detail especially when it comes to the needs of the customer. These positions in most instances are the first or last point of contact between the customer and the dealership and thus will play a vital role in making the customer's visit to our stores a memorable one.